Cinema – documentaries – Short Movies – Talks – Performances – Photography – Food & drinks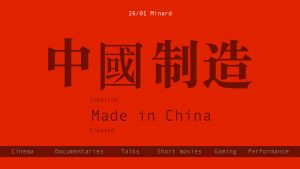 Made / Inspired / Created by Chinese people Made in China Festival focuses on contemporary Chinese movies, Chinese documentaries on social achievements and problems, artistic shorts by Chinese or Belgians inspired by China. In addition to the audiovisual, more food for thought:
Pascal Coppens (https://www.chinasnewnormal.com/)
Manya Koetse (https://www.whatsonweibo.com/)
passionately talk about innovation (biotechnology and information technology) in China, the online life of the Chinese, its impact on Chinese society and its influence on the Western world.
Be a virtual guest of the Chinese New Year in 360° video!
In our Virtual Reality-corner you can be a witness of the festivities around the Chinese New Year.
The Lu Xun Academy captures the Chinese New year the night before (January 25th) and you will be able to see it with a  360° Headset on our festival.
This is a collaboration between Luca School Of Arts, Ghent and the Lu Xun Academy of Fine Arts, Shenyang China.
Robbert & Frank Frank & Robbert (http://www.frankenrobbert.com/) are inspired by a facet of China's religious-spiritual life and lead the audience through a process of rituals.
Photgraphy by Hu Min
Chinese food & drinks
Organisatie: Made in Chinafestival